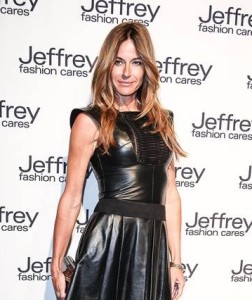 Real Housewives of New York City's Kelly Bensimon is a single mother, and according to Kelly, it's not easy.  Here's what she had to say about single parenting:
"I am a single parent and it's not easy. For anyone who is a single parent, it is nothing to be flippant about. It is really, really difficult. I have to work as well, and it's something that I've always done. I've always worked and I've always been a single parent. This is my life and it's how I am trying to raise my kids. I want them to have really great values. I don't want to be that parent that's like, "I work so much that I kind of spoil them." I am trying to give my kids those Midwestern values that I find very important."
The Real Housewives of New York alum recently hosted the launch of Original Scent, the new luxury scent bar in Pasadena. The reality TV star, 44, raves about the new "boutique where you can make your own personal fragrance."
Kelly opens up to Celebrity Baby Scoop about her daughters – Sea, 14, and Thadeus, 12 – who are her "greatest luxury." She goes on to talk about the difficulties of single motherhood and her greatest regret from appearing on RHONY, saying the show did not accurately portray her life.
You can read the entire article here at Celebrity Baby Scoop.
Sgt. Ida Irby, 24th Press Camp Headquarters:
Better Opportunities for Single Parents is a fresh organization created to give a voice to single parents in the Army. The Fort Bliss BOSP group hopes to also reach out to DoD civilians, National Guard, reservists, retirees, and veterans of all branches who are in a single-parent situation due to temporary duty, overseas deployment or separate duty stations.
Since November 2011, the BOSP program is growing daily as a result of up-to-date commander's briefings, newcomers briefings and family readiness group trainings.
"Bring your voice, your issues and your concerns," said Sgt. Richard Carreon, vice president of the BOSP. "'Total Army Family' sums up what it takes for single parents to be successful. Without the chain of command, chain of concern, FRG, family care plans and the arsenal of Army programs; it would be virtually impossible to raise a child as a single or dual military parent."
Read the entire article here.
This article comes to us from Dishon & Block
Being a single parent is not an ideal situation. No matter how you spin it, almost everyone agrees that having two parents is better than one. However, being a single parent post-divorce or separation gets a worse rep than it deserves, and there are advantages to raising children alone.
Rather than trying to work with your ex to make parenting compromises, you'll get to make your own decisions. Kerri Zane, single mother advisor, offers five reasons that being a single parent actually can be better:
1- No negotiations necessary. Parents trying to co-parent will continue to fight and deal with disagreeing views on how to raise their children. All the fighting and disagreeing can make both environments unhealthy for your child. As a single parent you can be the security blanket and the healthy, loving parent that your child needs.
You can read the entire article here.