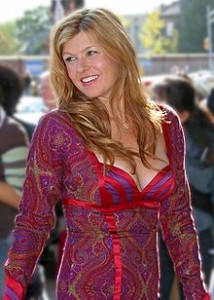 Connie Britton loves being a mother, but she does admit that being a single parent can be particularly challenging when it comes to her love life.
The Emmy-nominated Friday Night Lights actress (who next stars in the primetime drama Nashville) confesses that she's ready for love, but there's no time to pursue romance.
"I have no sex life right now," Britton, 45, revealed during Lifetime's The Conversation with Amanda de Cadenet on Thursday. "I keep thinking about how I could do it, how I could pull it off."
In November 2011, Britton adopted an Ethiopian baby boy, Yoby, after waiting three years for a referral. Now that she's adjusted to life as a mother, Britton jokes that she's ready to get it on. "I'm just talking about how I get laid while I have a baby," Britton laughed.
Britton is only half-joking because she said she's "in great shape to meet a man" but doesn't "have time" to juggle dating and working with taking care of little Yoby. "When I go home, I have my little guy."
Starting a Family as a Single Parent
The decision to start a family without a partner was difficult, but ultimately worth it, Britton explains.
"There was a lot of grief about having not started this journey with the man who was going to be my partner. I anticipate finishing it with a man who's going to be my partner," Britton said. "I definitely had to grieve that, but I also didn't want to wait anymore. I absolutely know that this was something that I want for my life, and I'm really fortunate… and I feel like I can do it."
Tags: Connie Britton, single mom, single mother, single parent