Getting back on the dating scene can be daunting.  Working up the courage to start dating is tough for many people but can be especially difficult when raising a child alone.  To help you get back in the game, here are some top dating tips from an expert for single parents.
Are You Sure You're Ready?
Dating is going to be a big step for you and could have an impact on your children, particularly depending on their age. If you're not 100% ready, then this will be obvious to any potential suitors so be confident in your decision and never feel guilty about allowing yourself the opportunity to find love.
What Kind of Relationship are You Looking For?
Keep in mind that now you have children, relationships may be slightly more complicated than when you were originally single. That's not to say that you can't meet somebody amazing – think about what kind of person you are looking for and how they will fit into your lifestyle as it is now
Manage Your Expectations
Don't expect your perfect partner to fall into your lap after five minutes. Like anything in life, you will need to invest time and effort in order to find somebody you are truly compatible with.
How do Your Children Feel About You Dating?
You don't want your children directing the process but if they are old enough to understand they can be surprisingly insightful. When you are putting together your profile, they can help with things like choosing photographs or identifying individual qualities or stories about yourself that you may not necessarily be aware of or remember.
How does this Person Feel About Children?
If you meet someone and they are clear, or you have the sense, that they don't particularly like children then walk away. Your children are wonderfully special and it's unfair to introduce somebody into their life that doesn't feel the same way.
Does this Person Have Children of Their Own?
Though it's by no means vital, having children of their own means that they will usually understand the complications of childcare, scheduling, last minute cancellations and all the other joyous aspects that now accompany your dating life. That said if they don't have children, then just look for that sense of understanding, and compatibility where raising children is concerned.
Should You Say that You Have Children in Your Profile?
Yes absolutely. Honesty is always the best policy and they are a big part of your life, but keep it simple at this stage. 'I have two children, a boy and a girl, Adam and Anna, 7 and 9′ is sufïcient.
How Much Should You Involve Your Children in Your Profile?
You are the one looking to find love – not your little one – so make sure your profile picture is of you and you alone.  That said, an image of you and your children later on will provide nice insight into your exiting family dynamic.
How Much Should You Mention Your Children on a Date?
This is especially difïcult, as parents we are hardwired to talk about our children and how great they are! Before a date, take the time to remember the things that really make you tick and make an effort to let your date get to know every aspect of your personality. Of course, if the topic of your children naturally comes up, don't stress out about avoiding it, go with what feels natural and comfortable to you.
How Long Should You Wait Before Introducing a New Partner to Your Children?
There is no set answer here, rather a case-by-case decision on what makes you and your children comfortable. Wherever possible, you should communicate with your children about your current relationship and introduce the idea of a new partner long before the partner themselves. Also, don't put too much pressure on a first meet. Do something fun and relaxed and let them get to know each other in a natural way.
Tags: single father, single mom, single mother, single parent dating, single parent dating sites, sinlge dad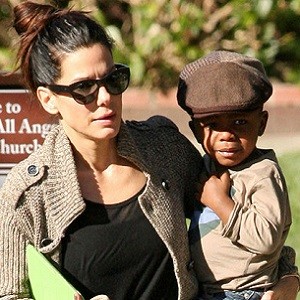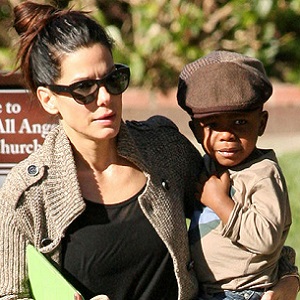 Louis is the No. 1 man in her life! Sandra Bullock revealed in a recent interview that she's quite content being a single mom to son Louis, 3 — but she's open to playing the field
"If [a relationship] should come along, great. But I feel like I'm not missing anything yet," she told Entertainment Weekly of being single. "Maybe one day I will. But my son is 3 years old, which is an amazing age. Four is an even better age. So if something happens, great, but if not, I've got plenty to do."
The Oscar winner previously went through a very public breakup in March 2010 when it was revealed that her husband of five years, motorcycle customizer Jesse James, cheated on her with multiple women. Just two months earlier, Bullock brought home her adopted baby boy.
Now, three years after the bombshell, Bullock is making headlines again with her Oscar-buzzed film Gravity, and the several hilarious antics that surfaced while she and costar George Clooney promoted it. In November, the 52-year-old silver fox joked that Bullock tends to drunk dial him at night.
"Yeah, I heard, I heard. You know what? I'm so embarrassed for him because I think he's showing his vulnerable side," Bullock joked back to EW. "It's a booty call. But then he wants the commitment and the marriage and I'm like,'Dude, I don't have the time.' And he's all, 'But I'm not a one night stand kind of guy.' Well, then, I can't.'"
She quipped: "Drunk dialing is what it is, George. I just need an hour of your time."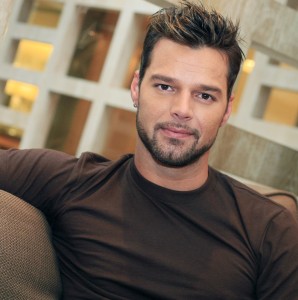 Ricky Martin insists it isn't "difficult" being a single father.
The 'Livin' La Vida Loca' hitmaker – who split from boyfriend Carlos González Abella in January – gives his five-year-old twin sons Matteo and Valentino "a lot of love" and enjoys their life together.
Asked if being a single parent is tough, he said: "I don't know anything else, so this is the journey that I embarked myself into. I made the decision to bring my kids into this world and it hasn't been difficult at all. My kids have a lot of love."
The 42-year-old star is pleased his latest single 'Vida' is already a hit in his household, though it took a while for his sons to approve the track.
In an interview with 'Entertainment Tonight Canada', he said: "With my latest single 'Vida', when we started working on it they were just not listening.
"And then we did some fixes, rearranged it and then all of a sudden, they were like 'Oh!' and now it's all about, 'Daddy, are you going to sing 'Vida'?' "
Ricky is currently working on his tenth album but knows it will be time to give up his music career if it ever becomes "stressful".
Asked for his top tips in surviving the music industry, he said: "Rule number one, you have to have a good time. The moment you find too much, you're making music stressful you have to stop."
Tags: Living La Vida Loca, Ricky Martin, single father, single parent, The Voice, Vida