Donna on April 25th, 2013
Are You a Single Parent Struggling to Find Affordable Housing?
Single parents may struggle to secure adequate housing for various reasons, such as limited income or bad credit. But no matter what the reason, single parents still need safe, affordable housing for their families. So where can you go to get assistance?  Finding affordable housing as a single parent is not easy; but it's not impossible. Whether you're a homeowner in financial crisis, or a single parent looking for low income rental housing, there are programs out there that may be able to help you. So let's take a look at some of the programs that are available to help secure housing for single mothers and single fathers out there.
Your Affordable Housing Search should Start Here
A good place to start your housing search is your local Housing and Urban Development office. You can find out about HUD programs for financially disadvantaged families, and single parents like yourself. While it can take a while to secure safe, affordable housing through these programs, you still want to get on the list even as you're looking at other options.
Here is a link to local HUD listings by state.
Other Programs
Below are some other programs that HUD offers. These programs may be able to help single moms and dads with their housing problems.
Housing Choice Voucher Program

This program assists very low-income families, such as single parent families so they can afford safe and adequate housing in the private market. Since housing assistance is provided on behalf of the family, single parents are free to find their own housing, including single-family homes, townhouses and apartments so long that they meet the programs requirements. The Program determines an amount and pays the Landlord directly, and the family pays the difference.

The Housing Choice Voucher Program is run through local Public Housing Agencies(PHAs). The PHAs receive funds from HUD and the PHA's administer the voucher program.

Find Your Local Public Housing Agency.

The Home Program

The Home Program is designed to create affordable housing for single mothers, single fathers, and low-income households in general. Each year it allocates about 2 billion dollars among the States and local agencies. The program was designed to help those in need through things like loan guarantees, direct loans, grants, rental assistance, security deposit assistance, and credit enhancement. Eligibility for the Home Program varies depending on the type of assistance you need. To find out if you are eligible, you need to contact a participating agency in your area.

You can find the information you need by following the Home Program Contact link.
Don't Give up Looking for Safe Affordable Housing
It can be very discouraging, at times, trying to secure affordable housing for your family as a single parent. But remember, there are many different programs out there with many different types of eligibility requirements. If you stay positive and continue searching for assistance, your chances of finding safe affordable housing for your family are greatly increased.
Tags: assistance programs for single mothers, government assistance for single mothers, government programs for single mothers, housing for single mothers, programs for single mothers, resources for single mothers, single parent families, single parent home loans
Donna on March 31st, 2013
Self-esteem plays a key part in a single mother's happiness, but makes little difference to the life satisfaction of single fathers, new research shows.
Research by an academic at Western Australia's Edith Cowan University, Bronwyn Harman, into the life satisfaction of different family formations, showed that single parents believed they were still viewed negatively by society, even though they accounted for 17 per cent of families in Australia.
Dr Harman interviewed scores of single parents, and then rated their life satisfaction based on their resilience, self-esteem and social support. She found that while all three factors contributed to the happiness of single mothers, self-esteem "had no impact" on the life satisfaction of single fathers.
"Single mothers can have lots of social support, but unless they have that internal self-belief, they don't believe what they're being told," Dr Harman said.
"With dads, they just believe what they're told – 'you're doing a good job'." Dr Harman found little difference in the "relatively low level" of life satisfaction among both single fathers and single mothers. "When you combine the negative stereotypes with the day-to-day struggle of being a single parent, it would generally not be a very happy place to be," she said.
All single parents said they were stigmatized by society. "Single mothers said partnered mothers were threatened by them, viewing them as potential husband stealers," Dr Harman said.
"Single fathers said society viewed them as a 'failure', 'with suspicion', and 'rejected'. There is an incorrect but pervasive view that only mothers know how to parent."
Single dads told of spending tens of thousands of dollars in legal fees for access to their child, being regularly excluded from special occasions involving their child, and being cut out of the communication loop by their child's school.
Single mothers reported finding daily life a struggle, with no one to share the burden of illness and tiredness, or their parenting successes.
Dr Harman said a lack of social support for single parents contributed to their low levels of life satisfaction.
"Being a parent with a partner is hard enough," she said. "You can't imagine what it would be like juggling and struggling all by yourself with no one to fall back on." Justine Proctor became a single mother five years ago when her husband – from whom she was separated – died.
"There are not a lot of good things about being a single parent," she said.
Now her son, Luke Harford, is on the cusp of adolescence, Ms Proctor feels keenly the lack of a partner. "My son is just at the age where he does need a father figure around, a good male role model," she said.
Ms Proctor said her "saving grace" was the Single with Children support group.
She said the best thing about her family set-up was her bond with Luke. "I'm hoping the bond is going to last through the teenage years," she said.
Donna on March 30th, 2013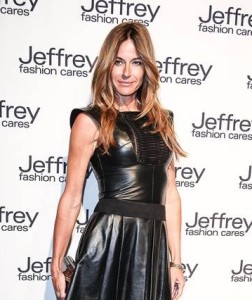 Real Housewives of New York City's Kelly Bensimon is a single mother, and according to Kelly, it's not easy.  Here's what she had to say about single parenting:
"I am a single parent and it's not easy. For anyone who is a single parent, it is nothing to be flippant about. It is really, really difficult. I have to work as well, and it's something that I've always done. I've always worked and I've always been a single parent. This is my life and it's how I am trying to raise my kids. I want them to have really great values. I don't want to be that parent that's like, "I work so much that I kind of spoil them." I am trying to give my kids those Midwestern values that I find very important."
The Real Housewives of New York alum recently hosted the launch of Original Scent, the new luxury scent bar in Pasadena. The reality TV star, 44, raves about the new "boutique where you can make your own personal fragrance."
Kelly opens up to Celebrity Baby Scoop about her daughters – Sea, 14, and Thadeus, 12 – who are her "greatest luxury." She goes on to talk about the difficulties of single motherhood and her greatest regret from appearing on RHONY, saying the show did not accurately portray her life.
You can read the entire article here at Celebrity Baby Scoop.