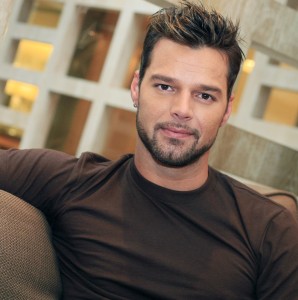 Ricky Martin insists it isn't "difficult" being a single father.
The 'Livin' La Vida Loca' hitmaker – who split from boyfriend Carlos González Abella in January – gives his five-year-old twin sons Matteo and Valentino "a lot of love" and enjoys their life together.
Asked if being a single parent is tough, he said: "I don't know anything else, so this is the journey that I embarked myself into. I made the decision to bring my kids into this world and it hasn't been difficult at all. My kids have a lot of love."
The 42-year-old star is pleased his latest single 'Vida' is already a hit in his household, though it took a while for his sons to approve the track.
In an interview with 'Entertainment Tonight Canada', he said: "With my latest single 'Vida', when we started working on it they were just not listening.
"And then we did some fixes, rearranged it and then all of a sudden, they were like 'Oh!' and now it's all about, 'Daddy, are you going to sing 'Vida'?' "
Ricky is currently working on his tenth album but knows it will be time to give up his music career if it ever becomes "stressful".
Asked for his top tips in surviving the music industry, he said: "Rule number one, you have to have a good time. The moment you find too much, you're making music stressful you have to stop."